GAN EDEN 1995 Moscato Nero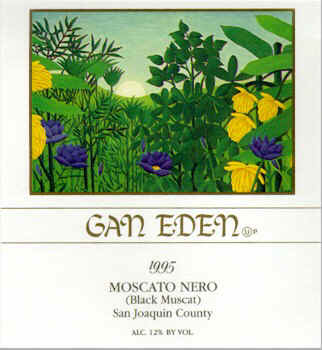 The 1995 GAN EDEN Moscato Nero is a unique wine, produced entirely from Black Muscat grapes grown in Don Gallagher's vineyard in Manteca, California. In all of California, only 63 acres of this grape are cultivated. Gallagher represents one of the largest growers of this varietal in the state. This is an unfortified rose' wine.
Our Black Muscat is normally a late harvest wine, but 1995 was a very cool year, and the grapes were harvested quite late, but only at 23° brix. Our winemaker, Craig Winchell, decided that the grapes would be optimal for a wine of this type, so rather than producing only a lower sugar Black Muscat, he pressed some of the grapes immediately to produce this charming wine, which we named Moscato Nero, Italian for Black Muscat. The wine was fermented to 12% alcohol and 2% residual sugar. This wine retains all of the floral and spicy aromas characteristic of muscat grapes, while exhibiting the cherry and berry aromas and flavors found in red wines in general. This was a difficult wine to produce, and we are pleased with the results. Our 1995 Moscato Nero has received 12 medals, including three golds, and was the "Best of Region" winner at the California State Fair. It has proven itself to be a favorite of numerous consumers.
GAN EDEN was established in the spring of 1985 in the Green Valley viticultural district of Sonoma County. This was our first Moscato Nero, and successors to it will be produced only in years when the Black Muscat grapes fail to fully ripen for our Black Muscat wines, so the supply will always be limited.
Winemaker's Comments
This wine has a beautiful rich pink color, with rose petal and cherry aromas and spicy cherry, strawberry and raspberry flavors. Our GAN EDEN 1995 Moscato Nero is delicious by itself, as a sipping wine, picnic wine or aperitif. It can be served with spicy meals, and can complement fruit desserts.
---
(Home Page) (What's New?) (Winery) (Wines) (FAQ) (Winemaker and Family) (Order)
---
GAN EDEN Wines
produced and bottled by: Yayin Corp., 4950 Ross Road, Sebastopol, CA 95472