GAN EDEN - THE WINERY
Until 2005,GAN EDEN was a winery in every sense of the word. While many "wineries" are simply brand names, the customized output of winery facilities which produce many different brands for many different brand owners, GAN EDEN (Yayin Corp) owned and operated its own facility, located in Sonoma County's Green Valley, between the cities of Sebastopol and Forestville, within walking distance of Iron Horse, Dehlinger and Kistler, and a short hop away from Martini & Prati, Taft Street, Topolos, Miramar Torres, and many others. We sold the winery property in 2005, and now it is owned by different owners, and produces different brands of wine, none of which are kosher. We are now in the process of attempting to resurrect the GAN EDEN brand name, after having liquidated the previous iteration of the wines through distribution and retail. The brand had been owned by Yayin Corp, but is now owned by Craig Winchell, former President/Winemaker of Yayin Corp.
Our winery, in the days of Yayin Corp., was a 40,000 case facility. Because our wines are kosher certified, we could not allow access to the facility, so we did no custom production for others. At our height of production, we produced 25,000 cases per year, but we settled into a more moderate production of between 5,000 and 15,000 cases of distinctive, award winning varietal wines.
For those who are interested, we had 13 stainless steel tanks: 2- 20,000 gal, 1- 15,000 gal, 3- 10,000 gal, 4- 6000 gal and 3-3500 gal. We had 500 oak barrels and 1- 4000 gal oak tank. We had a 5000 liter press and a 15 ton per hour crusher/stemmer. We could crush and press 45 tons of white grapes per day (although 30 meant we could get some sleep at night), and our bottling line could bottle up to 900 cases in an 8 hour day. We had all of the requisite pumps, filters and other equipment needed to be a fully functioning winery. Our facility was housed in 2-90'x120' buildings, with outside tanks on a 45'x60' pad, adjacent to a wooden storage shed. We had a 5 ton hoist for dumping gondolas. We could accept grapes in anything a grower could throw at us, with the exceptions of picking bins and lug boxes.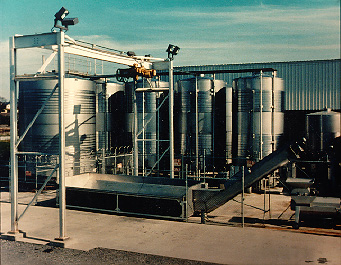 So how many winery employees were there? For much of the wine production operations, only 1 person was necessary, me (Craig Winchell)!! All of the equipment was sized larger than it would be in a non- kosher facility of the same production volume, so that winery operations could be performed in a short enough amount of time to run relatively efficiently. The equipment was also largely integrated and optimized to enable ease of performing the necessary operations. Since I was often the only employee, and since I was involved not only in production, but also in sales, marketing and administration, I needed to make enough time for everything. Needless to say, this meant that I could rarely accept visitors. Otherwise, I'd spend more time entertaining than running the winery.

Of course, there were many times when I had help. In 1990, I underwent open heart surgery to replace a defect in my aortic valve. A fellow named Avrohom Logvin signed on to help me out, and stayed for 4 years. For the crush of 1990, he was a "godsend", and remained a most helpful and intimate part of the staff through his tenure. A friend named Ari Goldberg also spent a significant, though much shorter, time working with the wine. And of course, for bottling, I had kosher supervisors and nonJewish temporary employees.

Now, we hope that GAN EDEN can again become a force in wine, kosher wine. I certainly hope that I can eventually establish a winery facility at some point in time nearer to Los Angeles or another Jewish community. Right now, it seems the best bets are to be found in the northern California wine country.

GAN EDEN Wines

12725 Hatteras Street

Valley Village, CA 91607

Tel 818-505-8618 e-mail: ganeden@ganeden.com