GAN EDEN Wines: Wine Critiques
Current Wines, or wines still available in the marketplace
1997 Limited Reserve Cabernet Sauvignon
Joe "Beppe" Rosenberg (in erobertparker.com)
TN: Gan Eden Limited Reseve Cabernet Sauvignon 1997 Mendocino
Purple reddish, intense colour, herbaceous floral nose, rich plummy, olive tinged complex flavours, long sweet finish. 90/100 and its kosher $35 retail

--------------------
Joe "Beppe" Rosenberg
The Colorado Wine News, April-June 2003
Gan Eden makes kosher wines but not the sticky sweet ones many have come to expect. It's 1997 Cabernet Sauvignon, Limited Reserve, Mendocino County, $40, has forward aromas of black cherry, black raspberry, red currant,smoke, and vanilla oak. Jammy raspberry and cherry flavors are accented with spice, moderate tannin, and good acidity before a medium-broad, medium-long finish with oak underneath. Fresh and lively for drinking now.
2000 Cabernet Sauvignon
Reviewed by Joshua London(53), Kosherwine.com
4 Stars of 5 Vintage 2000
Made of 100% Cabernet grapes from several California vineyards, this lovely and quirky wine has plenty of plum, cherry, and currant, with traces of pepper, black olives, cloves, and with hints of oak in the background. It is a supple, medium to light bodied wine, full flavored, balanced, with light tannins, and drinking very well now. This will compliment most meat and heavier poultry dishes.
Reviewed by Jay@TheMitzvahProject.org(21), Kosherwine.com
4 stars of 5 Vintage 2000
Ruby red, medium bodied, with a somewhat fruity nose. At first I did not like it until it breathed for many hours, then it was quite good. It takes quite a bit of time for this wine to open up. Make sure you open it well before dinner time. It has great legs, with an aged oak nose and hints of leather and berries. It has a fresh oak taste with plenty of berry and plum flavors. The wine has a velvety feel, and a slightly chalky taste also. Medium to light tannins. It is relatively powerful, and should Bill Futornick (in erobertparker.com)
Gan Eden 2000 Cabernet Sauvignon- not bad, but not outstanding. A drinkable wine that was overshadowed by the following one. (2000 Syrah)
2000 Syrah
Reviewed by Joshua London(53), kosherwine.com
5 stars of 5 Vintage 2000
Gan Eden's first Syrah is a real powerhouse of a wine. It is drinking seductively well now, although I think it will age nicely for five or six years yet. It has a deep, deep ruby color, with heavy but not overpowering tannins. It is medium to full bodied, complex, balanced, with white and black pepper notes, very intense fruit—something like cherry, black cherry, currant, and blackberry, with a luxurious spiciness, and definite hints of toasty oak. The finish is a little mild, but distinctive. The wine is perfect for a hearty fleishig Shabbos meal!
Reviewed by Gamliel Kronemer(14), kosherwine.com
4 1/2 Stars of 5 Vintage 2000
A truly delightful full-bodied wine. It has a lovely cherry/pepper bouquet. The flavor is very fruity, with the taste of bing cherries, blackberries, rhubarb, and black pepper. The wine has a lot of tannins, but they are well balanced and structured. Although wonderful, the wine is somewhat atypical, and I would never have guessed that this was made from pure Californian Syrah (which it is.) It tastes more like how I would guess a cuvee of Syrah and Zinfandel would taste. This wine would be great with Chulent, or any beefy stew. It is drinking well now, but would probably be better with a bit more age, and should be good for at least another five years.
Reviewed by Bergie(3)
4 Stars of 5 Vintage 2000
An interesting blend of flavors, but very pleasing. Tannins were moderate and slightly dry. Overall, very nice.

Bill Futornick (in erobertparker.com)
Gan Eden 2000 Syrah- The best for last. Very meaty, peppery nose, reminds one of a northern Rhone. On the palate, a little rustic like a Crozes, and quite enjoyable. I doubt that I'd ever pick this one out as a California Syrah, much less a Kosher California Syrah in a blind tasting of Crozes or St. Joseph. Outstanding, and a terrific match with our roasted chicken. Well done, Craig!!
Eric LeVine (in erobertparker.com)
2000 Gan Eden Syrah [Sonoma County, California, USA] 86 pts. (4/22/2003)
Nose of black cherry with peppery Syrah notes. This is big and forward on the palate with a hint of bitterness. The finish is long and acidic, reasonably powerful.
from The Kosher Blog (kosherblog.net)
Gan Eden's 2000 Syrah was surprising: despite its whopping 16% alcohol by volume, this non-mevushal bottle from the always-reliable Gan Eden was more subtle than the Australian Shiraz that I'm used to. I found some fruitiness, a peppery finish, and a heck of a surprise when I tried to stand up (I mean c'mon, 16%ABV?!). There wasn't even a hint of the syrupy or alcoholic flavors that most of these bruisers exhibit, and if I hadn't re-read the label I would have thought that it was something in the boiled flaken that kept the room spinning.
Yossi, in The Wine & Food Forum at Stratsplace.com
Gan Eden Syrah 2000. As with all of Craigs efforts, an interestingly idiosyncratic wine with many different angles, and lots of ways to approach it. My particular inerpretation: almost musky nose on first attack that resolves after a bit as a black olive presence complemented by white pepper, herbal aromas, and sour/black cherry with just a hint of cranberry, all on a bold background of oaky earthiness. The palate is sharp at first with almost angular tannins (a result I suppose of the definitive oak presence), but becomes softer and better balanced as the wine opens in the glass. There was, I think, a bit of sweetness on the finish(surprisingly long I might add) there - perhaps some residual sugar? Certainly the 16% would point to a brix that must have started out quit high. VERY interesting - as usual! 90/100
And a Dissenting opinion by Gamliel Kronemer on subsequent bottles, from Stratsplace:
Gan Eden, Syrah, 2000. With a beautiful dark garnet color, long legs, and a surprisingly youthful appearance, this wine has a lovely cherry flavor, marred by high acid and an overall lack of balance. I have tasted this wine three times, and the first time I had it I thought it was superb. However the last two bottles I have tasted, have each been different from the first--and from each other--and on the whole have been disappointing. Score 84.
2000 Chardonnay
Tastings: Kosher wines don't have to sweeten Passover table
Thursday, March 25, 2004
By Bruce May, Pittsburgh Post-Gazette

Recommended
Very good (85-89)
2000 Gan Eden Chardonnay -- El Dorado County ($15.99, PLCB Specialty Code 16678): Gan Eden produces a wide range of top quality kosher wines. Its chardonnay displays a nice combination of apple and citrus fruits with toasty oak aromas. The flavors lean toward the citrus side of varietal character with a crisp finish. Serve with roasted turkey.
2000 Late Harvest Gewurztraminer
Reviewed by Joshua London(53), kosherwine.com
5 Stars of 5 Vintage 2000
A wine so beautiful I wish I could capture its essence in poetic form! Perfectly golden yellow in color, this sweet, refreshing, delicate, aromatic wine is perfectly balanced with hints of grapefruit, apricot and even subtle notes of pear and honey. Although a dessert wine, it drinks perfectly well on its own, and will compliment a variety of lighter dishes. Absolutely delicious!
Reviewed by Gamliel Kronemer(14), kosherwine.com
5 Stars of 5 Vintage 2000
This is a truly lovely desert wine. Golden in color, it has a rich fruity aroma, and a taste of pineapple, pears, grapefruit, and heather. It is a well balanced, well crafted wine. I believe this wine to be the best sweet kosher wine on the market for under $20. It is drinking well now and should be good for another 3-4 years.

Wade Hostler (in erobertparker.com)
Surprises of the year? I've had a few. In no particular order:

1) 2001 Reinhold Haart Piesporter Goldtröpfchen Spätlese - This turned me on to the possibilities in German Riesling.
2) 1997 Domaine des Baumard Savennières - This turned me on to the possibilities in Loire Chenin Blanc (along with a badly corked bottle of 1997 Rene Renou Bonnezeaux, believe it or not).
3) 2000 Gan Eden Late Harvest Gewurtztraminer - Less than $15, kosher wine, and just a thoroughly enjoyable bottle of wine that I picked up on a pure whim.

Interestingly enough my surprises are all whites. I always thought of myself as a red wine guy but I'm drinking more and more whites. It's not at all a bad thing. I suspect it's because whites are not as overpriced as reds and it's easier to be adventurous
Also Wade Hostler (in erobertparker.com)
Wine: 2000 Gan Eden Late Harvest Gewurztraminer
Producer: Gan Eden
Appellation/Varietal: Gewurztraminer
Vineyard/Region: Monterey
Vintage: 2000
Cost: $15.25 / 750ml bottle
Tasting Date(s): May 13-15, 2003
Personal Rating: I'm giving up on point scores. Just read...
Notes: I found this in the kosher section at BevMo. As I drank this I couldn't help but remember the public service TV spot from many years ago where the little boy talks about his "best Jewish friend" and his father instructs him in the nature of prejudice. Along those lines I will not tell you this is good kosher wine, I will tell you this is good wine that also happens to be kosher.
On to the wine. I purchased it expecting more of a dessert wine but there is less sweetness than one might expect and no botrytis character. I don't know if a small amount of secondary fermentation in the bottle has provided the light spritziness and burned off a little extra sugar, but that's what I might guess. It is very simple and direct, but I would also use such complimentary adjectives such as lively and vibrant. Everything about this wine reminds me of green apples, from the color to the nose to the palate. There is a very pleasant tart acidity that is not over the top at all. The overall balance and effect is surprising, and good. I think it would be superb as an aperitif. I should note that although it still tasted good it did lose some of its vibrant character after being stored overnight. I would recommend once you open a bottle you finish it the same day for maximum enjoyment.
It's wines like these that make me glad I experiment.

1998 Black Muscat
Reviewed by Joshua London(53), kosherwine.com
5 stars of 5 Vintage 1998
This semi-dry to sweet Kiddush-style wine is a million times better than any Concord grape kiddush wine I've ever tasted—although that might not be saying very much. It is, however, perfect for those who prefer a more traditional Kiddush wine but hope to expand their tastes. This light to medium bodied wine is very rich, well balanced and wonderfully distinctive. The wine has a racy cherry and strawberry background with definite notes of raspberry and flowers. This wine should go very well with a variety of desserts or dark chocolate, but is also amazingly good with cold chicken, and lighter, cold meat dishes. This wine is easily the best kosher Black Muscat on the market.


cuvee "Les Trois Canards
From www.kosherwinetastings.com
Gan Eden "Les Trois Canards"
Producer
Gan Eden
Year
1996
Variety
Red blend
Country
USA
Location
California
Rating
88
Color Class
Red
Est. Cost
$18
Mevushal
Yes
light tannins, nice nose, long finish,
cherry, flowers, spice,
drink now
Best With
veal chops, grilled tuna, roast beef
Date Tasted
12/01/02
Topic: TN: Gan Eden 1996 California Cuvee "Les Trois Canards" ( in Wineloverspage.com)
Author: Robin Garr
Date: 20030421132459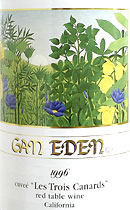 Gan Eden 1996 California Cuvee "Les Trois Canards" ($18)

Wine maker Craig Winchell dropped this one off for me to try while he was visiting family in Louisville last winter. Originally priced at $40, it's now offered for $18 on the winery Website (link below). Winchell's Sonoma-based winery, Gan Eden ("Garden of Eden" in Hebrew) produces only kosher wine; this unusual blend of Zinfandel (60%), Grenache (30%) and Cabernet Sauvignon (10%) - "Les Trois Canards" (The Three Ducks) - is the winery's first mevushal wine, made by a required-by-ritual purification technique that involves flash pasteurizing it at 185F. Clear reddish-purple in color, it shows distinct cherry-berry and stewed plum aromas, so jammy that it almost smells sweet. The aromas carry over intact on the palate, ripe and full. Zippy acidity imparts a structure more firm and muscular than the nose suggests: An unusual but enjoyable wine. Probably best with red meat, although Winchell says it goes well with curry; I went off in a different direction, trying it with a light dinner of creamy scrambled eggs scented with white truffle oil and topped with a bite of alder-smoked salmon, with a fresh spring asparagus toasted-orzo pilaf alongside. (April 18, 2003)
The COLORADO WINE NEWS, April-June 2003
The 1996 Cuvee "Les Trois Canards", California, $18 is a blend of 60% Zinfandel, 30% Grenache and 10% Cabernet Sauvignon. Pasteurized to make it Kosher for ritual use, it has become dominated by the Grenache. Very ripe blackberry and black raspberry are joined by smoky oak on the nose. Fresh and bright with lively acidity on the palate of raspberry, it finishes medium-broad and truncated with some tannin. Lively, fruity, easy to drink, crowd pleasing.
cuvee "C'est Bouilli!"
Reviewed by Joshua London(53), kosherwine.com
4 Stars of 5 Vintage Not Specified
This medium bodied, charming non-vintage Chardonnay is distinctive and very pleasant—it doesn't taste like a mevushal wine at all (it's name is French for "It's Boiled!"). Indeed, the wine even displays some of the characteristics typical of the superior Gan Eden vintage Chardonnays (like the 2000 Chard.), such as high acidity, and bright fruit flavors. This wine is very versatile, goes well with many fish and dairy dishes, heavy salads, cold cuts, and lighter poultry dishes. As a not too expensive mevushal California white wine, it would add a nice touch of class and distinction to social functions (or other occasions where a mevushal wine is needed
Reviewed by Gamliel Kronemer(14), kosherwine.com
4 Stars of 5 Vintage Not Specified
This is a delightfully crisp non-vintage mevushal Chardonnay. The wine has a lovely straw color, a fruity bouquet, and delightful citrus and apple flavors, with strong oak notes. This is a very food friendly wine, and would be a good inexpensive choice for occasions that require a mevushal wine. Drink now and for the next year or so.

1990 Cabernet Sauvignon
Yossi, from The Wine & Food Forum at Stratsplace.com
Gan Eden Cabernet Sauvignon 1990. Blend of 64% Alexander valley and 36% Sonoma County grapes providing the balance, this is a wine that I enjoyed in my youth, and was surprised to find is still very much alive today. The color is a deep reddish brown, although the brown is not nearly as pronounced as one might expect. Velvety smooth, with the fruits having faded a bit, nevertheless this medium-full bodied wine is still showing quite a bit of bing cherry, plum, raisin and vanilla bean, with some secondary mocha and chocolate on the back end. The tannins, while very well intergrated were still kicking, and gave this charmingly rustic, and of course decidedly eccentric Cab a nice balance, and nice mouth feel. LOTS of sediment as this wine was bottled unfiltered, which no doubt contributed to its longevity. A great surprise, and a welcome break this Shabbos from some of the ponderously heavy wines I've been tasting around. 91/100
Jason Brandt Lewis (in erobertparker.com)
O.K., so it's pouring rain in Berkeley today, and the girls' soccer game is cancelled. But, this being Berkeley, there's always something to do, and BAM -- no, not Emeril's new restaurant, but the (University of California) Berkeley Art Museum was having an open house with lots of hands-on art projects for kids, so . . .

And when it's time for lunch, we head to "The Muse," the museum's café, for lunch. And lo and behold, what do I see? 1990 Gan Eden Cabernet Sauvignon available for $1.50/glass.

O.K., let me repeat that:

a 12-year old Alexander Valley Cabernet for one dollar-and-fifty cents a glass!
What could I lose?!?!?!

1990 Gan Eden Cabernet Sauvignon (Alexander Valley, California): Dusty garnet-hued, showing some bricking at the rim; nice cassis and spice aromas, some earth, on the shy side (though whether this is from the wine, the wine being opened for a while, or the poor glass being used -- or all three! -- I have no idea); on the palate, the wine is medium-bodied, quite flavorful, with soft tannins underneath, and a velvety finish, though it's a touch drying at the back. But it's the best $1.50/glass Cabernet I've ever had! Great QPR, and still with enough character and stuffing to work well at the Passover Seder. (Oh, yeah, it's Kosher for Passover!)

Cheers,
Jason

[ April 12, 2003, 07:32 PM: Message edited by: Jason Brandt Lewis ]

Wine Enthusiast Magazine: 89 GAN EDEN (CA) 1990 Cabernet Sauvignon, Alexander Valley-Mendocino County.
Ruby. Medium Bodied. Balanced Acidity. Moderately extracted and oaked. Currants, black pepper, prunes. Opens with an unusual licorice nose. Rich body reveals hints of overripe fruit and mild sweet notes, which are soon swallowed by a surge of tannins in the finish. Intriguing style. $18
Wine Spectator: 86 GAN EDEN Cabernet Sauvignon Alexander Valley- Mendocino County 1990 $18
The cola flavor is almost overwhelming. Cedar, spice and plum qualities are also in evidence, but the ensemble remains a bit heavy-handed and awkward. Full-bodied. 4,000 cases made.
1989 Cabernet Sauvignon
Wine Spectator: 83 GAN EDEN Cabernet Sauvignon Alexander Valley 1989 $14
Well oaked with a gamy edge, but enough rustic , earthy currant flavors pull through to keep it interesting. Firmly tannic; best in 1997. 4,200 cases made.
Wine Enthusiast Magazine: 85 GAN EDEN (CA) 1989 Cabernet Sauvignon, Alexander Valley.
Ruby. Medium Bodied. Balanced acidity. Moderately extracted and oaked. Brown spice, black cherries, molasses. Features a tasty , persistent brown spice theme. Flavorful and well oaked, with a rich center. $15
1993 Chardonnay Reserve
Wine Enthusiast Magazine: 88 GAN EDEN (CA) 1993 Reserve Chardonnay, Sonoma County.
Medium light body. Medium acid, fruit, oak. Grapefruit, herbs, earth. Supple and ripe, with a zippy mouthfeel. Herbal hints accent fruit. Oak lingers. $15
THE WINE INVESTOR/ BUYER'S GUIDE: ** Gan Eden 1993 Reserve Snma Chard, $14.00 Now-2002
Big, round, and creamy with aromas of toasty oak and green apples. Quite viscous and mouthfilling with lots of subtle flavors and ripe chard. characteristics.
1993 Semillon
The Wine Spectator: 83 GAN EDEN Semillon Sonoma County 1993 $14.00
Light and lively, a brightly fruity example of an early drinking Semillon. 800 cases made
Wine Enthusiast Magazine: UN-CHARDED COURSE
Cries for "ABC" wines--anything but Chardonnay--are becoming more common in wine drinking circles. (ABC to some also holds for Cabernet, but that's another story.) Here's a case of a group doing more than whining: The International Wine Center in New York held a "Beyond Chardonnay" competition to find good-value alternatives from $5 to $25. And the winners (listed alphabetically within price categories) are... $13-$16: GAN EDEN 1993 Semillon Sonoma County...
---
(Home Page) (What's New?) (Winery) (Wines) (FAQ) (Winemaker and Family) (Order)
---
GAN EDEN Wines
produced and bottled by: Yayin Corp., 4950 Ross Road, Sebastopol, CA 95472