GAN EDEN 1993 Chardonnay Reserve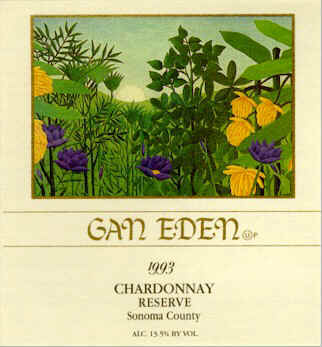 The 1993 GAN EDEN Chardonnay Reserve was produced from grapes grown at Black Mountain Vineyards in the Alexander Valley, and at Bunker Hill Vineyards near Penngrove in Sonoma County. This is our fifth vintage to use Black Mountain grapes, and it exhibits an overall continuity of character with previous vintages.
The 1993 Chardonnay Reserve emphasizes abundant peach and pear fruit, with oak used only as an essential seasoning component. Balance between the acid and fruit components produces a superb mouthfeel and a long, smooth finish. This is a wine which can truly complement a wide spectrum of foods.
The grapes for this reserve wine were harvested at an average of 23°Brix. Fully barrel fermented in mostly new, dark toasted oak and aged on lees for 5 months, the resulting wine exhibits fruit, acidity, oak and yeast flavors producing a well balanced, richly styled wine excellent when consumed by itself or with food. This wine has been awarded numerous medals, including its most recent, a Silver in the 2001 California State Fair Wine Competition, and received an 88 in the Wine Enthusiast, which called it "supple and ripe, with a zippy mouthfeel".
GAN EDEN was established in the spring if 1985 in the Green Valley viticultural district of Sonoma County. We began to produce Chardonnay with the 1986 vintage. Our 1986 and 1987 vintages each won 9 medals, and were among the top Chardonnays in California the year each was released. The 1988 vintage took an incredible 16 medals. The 1987 and 1988 vintages received scores of 89 and 88, respectively, in the Wine Spectator. The 1990 Reserve received 13 medals, 5 of which were won in 1994 (an indication of the longevity of our Chardonnays), and received an 85 in the Wine Spectator. Retaining a surplus of Chardonnay from the 1990 vintage, we produced no more until the 1993 vintage.
Winemaker's Comments
GAN EDEN's 1993 Chardonnay Reserve is a rich, complex wine with ripe fruit flavors reminiscent of pear, peach, honey and vanilla. Concentrated and appealing in the mouth, this wine ends with a long, creamy finish. This is a wine which complements a wide spectrum of rich foods, and which stands up well to fish or poultry produced with white, creamy sauces, or with rich, oily fish prepared in any manner. I particularly enjoy it with salmon. Still tasting great after so many years, this wine may be the best Chardonnay I have ever released.
---
(Home Page) (What's New?) (Winery) (Wines) (FAQ) (Winemaker and Family) (Order)
---
GAN EDEN Wines
produced and bottled by: Yayin Corp., 4950 Ross Road, Sebastopol, CA 95472