GAN EDEN 1996 cuvee "Les Trois Canards"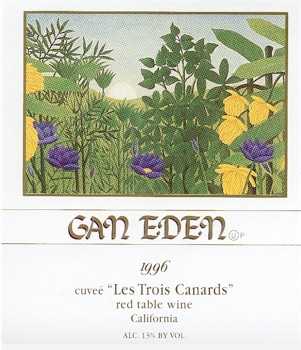 The 1996 GAN EDEN cuvee "Les Trois Canards" is our first mevushal (thermally processed) red wine, and our first superpremium blend. Until this point, we made only nonmevushal varietal wines. This wine was flash pasteurized to 185 degrees Fahrenheit minimum temperature.
This is a blend or 60% older Zinfandel, 30% extremely old-vine Grenache, and 10% Cabernet Sauvignon, from several fine vineyards in locations throughout California. the zinfandel contributes rich, brambly fruit, the Grenache adds an appealing fried floral character, while the Cabernet Sauvignon adds structure and a plum and currant character. the resulting fruit, as transformed by our winemaker Craig Winchell, culminated in a finely honed wine exhibiting medium body and complex fruit characteristics in a thoroughly balanced package, perfect for both current drinking and moderate-term aging. Interestingly, the flash pasteaurization brought out a more pronounced Grenache character, attenuating somewhat the intense Zinfandel character.
GAN EDEN was founded in the spring of 1985 in the Green Valley viticultural district of Sonoma County. We have made a spectrum of reds throughout the years, all of which were medal winners, and all excellent values. While this cuvee "Les Trois Canards" is an expensive wine, we think you'll agree that it offers excellent value in a uniquely styled wine. Lighter bodied than our Cabernet Sauvignons, more intensely fruity than our (now sold out) Pinot Noir, extremely complex and exceptionally drinkable now, this wine still has the ability to age and develop even greater complexity. We believe it will be a winner in the general market. and because it is mevushal, it exhibits none of the handling concerns in the kosher market that were exhibited by our previous red wines. this wine has it all! 2 medals in the first 3 competitions of the 2003 season!
Winemaker's Comments
This is a beautifully colored, complex and elegant wine with rich aromas and flavors reminiscent of currant, plum, cherry and dried flowers, overlaid with supple tannins, in a medium bodied package. Unlike our Cabernet Sauvignons, pure power has been dismissed in favor of balance, delicacy and accessibility. Our 1996 cuvee "Les Trois Canards" is an excellent accompaniment to all types of meat and fowl. surprisingly, the spicy component of the Grenache also makes it an excellent complement to curries and spicy Asian cuisine. this multifaceted wine continues to astound me in terms of versatility in food pairing. About the only thing it doesn't do well is dessert (but for that, we have 2 exceptional dessert wines- Black Muscat and Late Harvest Gewurztraminer).
---
(What's New?) (Winery) (Wines) (FAQ) (Winemaker and Family) (Specials, Overstocks, etc.) (Prices) (Order)
---
GAN EDEN Wines
produced and bottled by: Yayin Corp., 4950 Ross Road, Sebastopol, CA 95472