(Smokin'! Wood Smoked BBQ) (What's New?) (Winery) (Wines) (Winemaker and Family)
(last modified 8/18/2010)
Welcome to the GAN EDEN WINES and Smokin'! homepage!!!
Discussing BBQ, and GAN EDEN's historic nonmevushal wines!
Click on Smokin'! to link with Smokin'! Page
We've closed Smokin'! for good, at least at this location.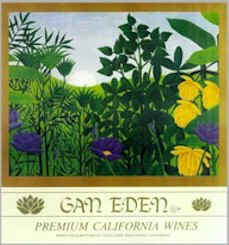 Please take the time to bookmark this site!!
The original GAN EDEN 40,000 case winery facility, 20.3 acre Sebastopol property (with 17 plantable acres, suitable for extremely fine Chardonnay and Pinot Noir, among others) and use permit is up for sale again by the people who purchased it from my original investors (family) and me. I would dearly love to get investors together, repurchase the property, and revive the GAN EDEN brand name. After 5 years away from the wine industry, I managed to recharge and reinvigorate myself. I am actually making wine again, as winemaker of a maximum 45,000 case facility in the Santa Clarita area, and having fun. In fact, I'm excited about the prospects for the first time in ages, and considering perhaps beginning anew as a winemaking entrepreneur, eventually, especially if I can create my own brand along with my new position. Anyone wishing to invest in a new winery venture, please contact me, Craig Winchell, at 818-505-8618, or cell 707-494-7095. I'd be willing to throw the GAN EDEN brand name into this new venture, but there's nothing wrong with starting a new label. I
FRAUD!!- Counterfeit GAN EDEN Wine
There's a fellow named Simon in Los Angeles who is selling counterfeit GAN EDEN wine. Since I have so little GAN EDEN left, and since I'm not currently producing it (although I still own the brand name and trademark), I have decided not to pursue action against him at this time- it is simply not cost effective. So if any of you are approached by him to purchase GAN EDEN wine, please understand that what he is doing is criminal and unethical, and that the wine you will be purchasing is not GAN EDEN and is not certified kosher by the OU. I understand that he is selling something with faux GAN EDEN labels as mevushal 2000 Cabernet. Please note that even though I did produce a 2000 Cabernet, it was never mevushal, so I know it could not be my wine. If he is selling Chardonnay that is mevushal, it would also be counterfeit.
I'm finished selling limited amounts of GAN EDEN brand wines, and of course, Yayin Corp. is officially closed, due to difficulties in providing Jewish Education for our children. We have moved to Los Angeles, and the winery facility has been sold. I (Craig Winchell) was still selling what was left (a significant number of cases) at the sale prices listed above, well under half the typical retail price, but finally ran out. These were the last of the GAN EDEN inventory pre-2005, when we sold the facility.
A Tale of some Bubbles: I made a decision years ago to bottle my wines under a carbon dioxide atmosphere, rather than nitrogen, in order to minimize oxidation and increase aging capacity. If the wine is cold during bottling, it has greater potential to pick up this CO2, and it becomes dissolved in the wine. Upon uncorking the bottles, many of my wines have an initial spritz because of this. The CO2 blows off in a matter of minutes. Bubbles can also be an indication of microbial spoilage. How can one tell the difference? Very easily, in fact! Turbidity (cloudiness) is evident only in the spoiled wine, often accompanied by off-flavors. The fact is that many wine spoilage microorganisms can cause gas, but the evidence for their growth is cloudiness in the wine. Absent the cloudiness, there can be nothing fundamentally wrong with the wine causing the excess CO2.
Several times through the years, people have called expressing alarm and disdain about the dissolved CO2 in my wines, believing it to be due to spoilage. Only once in 20 years was it actually found to be due to wine spoilage, and that was in a sweet wine. Recently, I received a call from a consumer concerning my "gassy" Cabernet. I make no apologies for the dissolved CO2, because it's one of the reasons I can continue to sell high quality wine a decade after harvest. Any fan of GAN EDEN wines has, I'm sure, run into this over the years. I just wanted to let consumers know that I'm not warrantying the wine against a slight spritz. In fact, I'm guaranteeing that you'll probably run into it.
With GAN EDEN wines,the quality and distinction are in the bottle, whether you're looking for California or Kosher!
Solid, dependable, wholesome. These are fine descriptions for all manner of foods: American cheese, baby food, white bread. And by and large, these are apt descriptions for the vast majority of better quality kosher wines on the market today. There's nothing wrong with that. The marketplace has been deluged with poor or indifferent quality kosher wine for so long that "solid, dependable, wholesome" represents a welcome change. Quality wine is always a "plus".
Sometimes a consumer wants more than American cheese. Maybe Cheddar or Swiss or Mozzarella, no matter how good the quality, is not enough to satisfy him. For him and those like him, the cheese world has evolved a vast array of more interesting examples: Brie, Camembert, Pont L'Eveque, Port Salut. And even more interesting, Livarot, Mariolles, true Alsatian Munster. These each offer unique flavors, textures and aromas, and for that, they're adored by some consumers, scrupulously avoided by others. Bold, exciting, inspiring, unique.
Sometimes a consumer wants more than the typical commercially styled wine. For that, the kosher wine world has evolved GAN EDEN. At GAN EDEN, we always strive to produce wines which are bold, exciting, inspiring, innovative, unique, wines which can stand head-to-head with other exciting wines produced specifically for the non-kosher market. This presents a marketing dilemma: such wines evoke strong feelings and emotions. People tend to love them or hate them. That's not a way to sell large volumes of wine, and that's why it's rare in the kosher market, dominated as it is by large, impersonal marketing companies devoted exclusively to maximizing their profits. Nothing wrong with that, but at GAN EDEN, we also like to have fun, to be proud, to inspire others to follow their dreams. And the biggest advantage is that we end up with bold, exciting, inspiring, innovative, unique wines to drink, the kinds of wines we love, and which few other kosher producers make available. Well, we're closed now, but hoping soon to begin making GAN EDEN again.
GAN EDEN wines have been called the "finest kosher wines in the world" by James Halliday in his Wine Atlas of California. GAN EDEN wines are quirky and individualistic in terms of styling. They appeal to those who want a full, robust flavor, in stark contrast to the majority of California wines produced these days, which are almost clones of each other in terms of styling. GAN EDEN's Chardonnays are generally crisp and fruity, remarkable wines for serving with fish, as opposed to the oaky, low acid wines typically produced in the industry. GAN EDEN's premium reds, notably the Syrah and the Limited Reserve Cabernet, are full, complex and rich. Our reds are often released to the public after long maturation in bottle, and therefore are released later than wines from other producers from similar vintages. This places us at a competitive disadvantage in terms of the marketplace, which likes to tout the newest vintage, but places us at a competitive advantage in terms of flavor, richness and complexity. Our wines were generally not mevushal, but there were 2 notable exceptions-- our cuvee "Les Trois Canards" superpremium red, and our cuvee "C'est Bouilli!" (Chardonnay). Both are exceptional wines for their types, stylistically different than the norm of mevushal kosher offerings out there, and certainly do not taste mevushal.
GAN EDEN wines competed favorably, in terms of flavor and quality, against nonkosher wines in their price ranges. Just a look at our medals list should be quite an eye-opener. Our last releases won 41 medals in 2002 and 39 in 2003. But just as important as quality to many (notably those of my consumers who are Jewish) is the kashrus of the wines. Since the inception of our brand, GAN EDEN wines have been made in our own facility, located in Sebastopol, California, in the heart of the Green Valley viticultural region, a sub-appellation of the Russian River viticultural region. Until the time of bottling, GAN EDEN wines are generally handled and manipulated by only one person, GAN EDEN's eccentric winemaker, Craig Winchell, under the supervision of the Orthodox Union. At bottling, when others are present in the winery, it is with full-time OU supervision. Consumers can rest assured that Craig, an Orthodox Jew himself (and perhaps the only Orthodox Jew in the world with a winemaking degree from the University of California at Davis, which houses one of the world's most highly respected schools of winemaking), is producing wines to a very high kashrus standard, as well as often being truly interesting wines of a quality which Craig would, and does, drink. Craig, who produced elegant and distinctive nonkosher wines prior to becoming observant 22 years ago, produces kosher wines with no less care than he used to produce his award winning nonkosher wines. The wines are certainly worth a try, both by those for whom kashrus is important, and by those who value distinctive quality.
No, we are not open to the public. Our facility has been sold, and later we closed our distribution and retail sales, so are no longer a licensed California wine distributor and mail-order merchant. It would be wonderful if we could once again establish a winery facility and again produce distinctive GAN EDEN wines.
(What's New?) (Winery) (Wines) (FAQ) (Winemaker and Family) (Specials, Overstocks, etc.) (Prices) (Order)
---
GAN EDEN Wines
12725 Hatteras St.
North Hollywood CA 91607